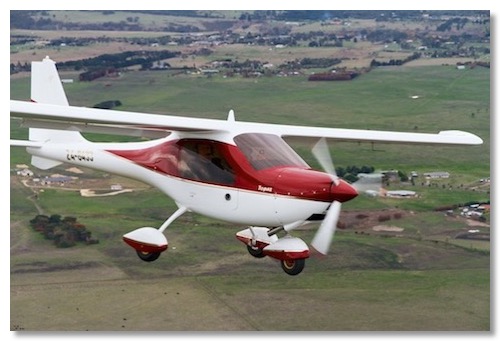 AirSports Flying School & its AEROSHOP.
If you are thinking about flying, why not take an introductory flight. Yes, you fly the aircraft with the guidance of one of our flight instructors. Enjoy an introduction to flying, it's exciting, a challenge, and a great experience. On a trial flight, after completing the take-off, your flight instructor will hand over the flight controls and you become the pilot. You can continue flying the aircraft for most of the remaining time in the air.

You can order an AirSports pre-paid flight certificate safely on line using your credit card and PayPal. We fly Wednesday-Sunday inclusive (if the weather permits). Prior flight bookings are recommended. If your are interested in learning to fly with AirSports please see our COSTS page for full details.

You can fly the top of the line TOPAZ a new, modern, comfortable, high wing aircraft with side-by-side seating,. You could also try our TEXAN sport aircraft, low wing design, a big roomy cockpit, modern avionics, good visibility and light flight controls - it makes learning to fly easier.

If it aviation equipment you need please review some of the enclosed products under the AeroShop brand. We will be happy to assist.

... when you are ready to fly please phone us AirSports Flying School on 0422 446622, and book your flight!

Stay up to date with all the news at Airsports by checking out our SCHOOL NEWS and TOPAZ NEWS pages and TOPAZ in FLIGHT.



The Topaz offers a really comfortable cockpit, amazing climb capability, excellent easy control and a superb glide capability (with a glide angle of 17:1), see our video (above) for a flight demonstration. The above video and this website is best viewed in Safari or Chrome, some loss may occur in FireFox. For a direct video link
click here.

AirSports Flying School
Riddell Airfield, Melbourne
Victoria, Australia.

Phone : 0422 446622
mail@goflying.com.au