ICOM AIRBAND
Fly the airwaves with the ICOM A24 airband VHF transceiver! ICOM's great new handheld aircraft radios. See also panel mount airband radios listed on this page.

Features include a "flip-flop" recall feature just like larger panel mount radios. Keep one frequency in use and the other set in standby ready for immediate use with the push of one button. In addition to the radio functions the ICOM A24 is also supplied with a VOR navagitation/ATIS weather information service radio channels (receive only). Our ICOM's A24 radios come with an ICOM factory backed guarantee.

Although they cost a little more these radios are the best aircraft handheld radios you can buy ....

ICOM A24 SPECIFICATIONS:


Compact and rugged.

Bigger control panel/screen

Water resistant to JIS 4 specifications

Full 5 Watt PEP output power (1.5 W carrier wave)

Receive and transmit on all 760 channels, 25 kHz tuning steps

ANL (Auto Noise Limiter) button for noise reduction

200 memory channels with "alpha" tag, real word 6 character names

External DC power jack option in both radios.

One touch access to 121.5 MHz (emergency)

Ni-MH battery pack with low battery alert (no memory effect)

Backlit display and keypad for night operation

TOT (time out timer) function for ICOM A6 AUS only.

Size (approx) : 2 1/8(W) X 5 1/8 (H) X 1 1/2(D) in
Superb lightweight aircraft radio ...
ICOM 24 - ONLY $645
includes
VOR function.

NOW
with
FREE
carry case and
FREE
G.A. headset patch cable

ICOM
"Push-to-Talk" button, with velcro attach button for joy stick/control column
$39.00
.

Note : Standard A24 Headset lead is required.
ICOM
24 volt/ 12 volt cig lighter lead + noise filter
$89.00
ICOM
Desktop, drop in, fast charger
$199.00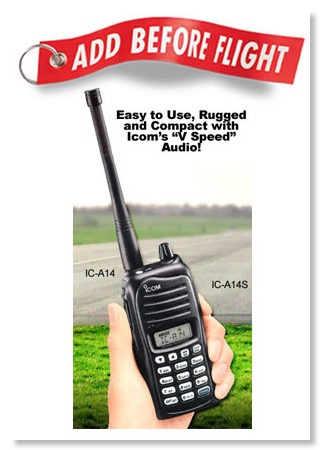 ICOM A14/A15
Superb, high quality, rugged pilots aircraft radios. The ICOM A14/A15 is a superb hand held aircraft radio, small enough for your navigation bag or glove box.

ICOM's handheld is a rugged "keep it simple" low cost aircraft radio. Strong alloy chassis, water resistant design, equivalent to IPX4, large display is easy to read with 200 memory channels available. The ICOM A14/A15 keypad allows you to input the frequency easily and has a button for the 121.5MHz emergency channel. Our radios are Australian ICOM units and come with a full local repair/replace guarantee (not a grey import).

"V-SPEED" - Loud audio
Operating in a high-noise environment? The ICOM A15 amplifier doubles the audio output, offering loud and clear audio that cuts through cabin or airport noise.

The ICOM's aircraft handheld radio is truly portable with a size of only 53(W) x 120(H) x 37(D) mm. A BNC connector for external aerial connection makes use as a fixed radio easy. Can be connected to external headset. A solid, good looking, desktop, drop in, 240v, fast charger is available as an option. ICOM's Aviation Headset patch lead an extra $89.00. Delivered registered or express mail. Pilot radio qualifications required to transmit.

ICOM A15
Aircraft radio
ONLY $425.00

Includes large capacity 2000 mAh li-ion battery
ICOM A15+
Aircraft radio -

Including
an ICOM 240v desk top, intelligent, drop in,
FAST
charger…
ON SALE - ONLY $535.00

Limited stock at this price so be quick!

Includes large capacity 2000 mAh li-ion battery

ICOM A15
headset patch cord $89.00 with a radio order
to enable quiet easy aircraft radio reception with a standard aviation headset.

An aircraft radio operators certificate is required to transmit on all aircraft band radios. This certificate can be obtained at most flying schools. We have an aircraft radio operato manual available for sale that will prepare you for the certificate written test.


New ICOM A220, innovative Air Band Radio
- Easy to Install and View

Innovative features in this next generation air band panel mount transceiver are why more pilots trust ICOM avionics.
White LED display and white key backlight
The IC-A220 has a bright organic light emitting diode (OLED) display with a wide 170-degree viewing angle. White characters on a black background give the viewer clear, easy to read operating information. The white key backlighting and white OLED display match a modern plane's instrument panel. In addition, the auto dimmer function adjusts the display for optimum brightness for either day or night.
Easy channel selection
It is fast and easy to select any of the memory channels in the IC-A220. The "flip-flop" arrow button switches between main and stand-by channels. The dual watch function allows you to monitor two channels simultaneously. Additionally, the improved auto stack memory stores the last 20 channels used and allows you to recall those channels easily.
Automatic squelch function
The new automatic squelch function detects the signal level and automatically adjusts the squelch level to maintain a received call. The manual squelch function allows you to instantly adjust the squelch level. The squelch test function manually opens the squelch for testing.
GPS memory function
When connected to comparable external GPS's equipped with an airport frequency database, the frequency data such as nearby airports can be transferred and made available.
12V/24V DC power source
The built-in DC-DC converter accepts a 12/24V DC power source. The IC-A220 is easily installed in most airplanes or vehicles.
Intercom functions
The IC-A220 has a built-in voice activated intercom function allowing the pilot to talk with the copilot via the headset. The IC-A220 has an adjustable audio level and squelch control functions.
Easy installation
The IC-A220 has a D-Sub 25-pin industry standard connector for easy installation. The slim case can be installed into a tight panel space. If your current radio has a card edge connector and you plan on installing your new A220 into the same housing, use the MBA-3 rear panel adapter for installation.
Other features

20 regular memory channels with a 6-character channel name

50 group memory channels (10 Ch x 5 groups) with a channel tag

Automatic weather channel scanning and receive (USA version only)

Dualwatch and priority watch functions

One-touch access to 121.5 MHz emergency frequency

Side tone function for monitoring your voice with headset

ANL (Automatic Noise Limiter) function reduces pulse type noise

Dial lock and panel lock

Time-out timer

D-Sub 25-pin industry standard connector for easy installation

Slim 1.34 inch (34mm) height can be installed in a limited panel space

Australian aircraft TSO approved.

Two types of menu mode: settings menu and configuration menu
ICOM A220 - LIST PRICE $4180 AEROSHOP ONLY $3190
Don't miss out, secure your order for a FIRST DELIVERY, full ICOM Australia factory guarantee.

IT'S NEW ….
Icom's A120
base station air band mobile introduces two new features: Active Noise Cancelling (ANC) and Bluetooth® capabilities. The newly added built-in ANC reduces background noise and is effective in extremely noisy airport environments. The automatic noise limiter (ANL) reduces pulse-type noise such as engine ignition. Insert the optional UT-133 Bluetooth® unit and connect a third-party wireless Bluetooth® headset.

This unit is great for any mobile application and it's available in a base station. To transmit you will need a radio operators certificate.Both are built to mil spec for superb reliability!

| | | |
| --- | --- | --- |
| | | |
| Output Power: | | 26W (PEP) - 12v and 24v capable |
| Frequency: | | 8.33/25kHz - 118.000-136.992MHz |
| Channels: | | 200 with 12 character channel names |
| LCD display: | | Dot-matrix with alphanumeric characters & icons |
| Waterproof : | | IP54 dust protection & water resistant |
| Mount option: | | Mounting bracket and mic included |
ON-hook scan and dualwatch functions

The ON-Hook scan function automatically starts scanning when the hand microphone is hooked on the microphone hanger. When you take the microphone OFF hook, the scanning stops at the priority channel or displayed channel. The Dualwatch function checks the priority and operating channels alternatively.


Side tone function

When using a third-party headset with the optional OPC-871A headset adapter, the side tone function allows you to monitor your own transmitted voice via the connected headset. Even when using a hand microphone, your voice can be monitored from the headset.

ICOM A120 - ONLY $1980
ICOM R6
Air Band, AM & FM Receiver - Listen to it All !

No need to transmit ? An aircraft frequency capable
receiver
is a great low cost option. Listen to
all
airband frequencies (and more) with this powerful, pocket sized receiver:


Full frequency coverage (0.100 MHz to 1309.995 MHz)
High Speed Scan (100 Ch per Second)
FM WFM AM Receive Modes
Internal bar-antenna (For superior AM reception)
1300 Memory Channels (22 Memory Banks)
Louder, Clearer Audio Output (BTL Circuits)
15 Hours of Continuous Receive (With External Speaker)
Multiple scan functions with Auto Digital Squelch
Auto Memory Write Scan (Detects & Stores Frequencies)
Required 2 x AA Alkaline or Ni-MH cells
Size only 58(W) x 86(H) x 30(D) mm
External DC input (for desktop use & Ni-MH charging)
2 Year ICOM "fix it in Australia" Warranty.

ICOM R6 - ONLY $325
PLEASE VISIT OUR NEXT PAGE FOR MORE AVIATION GEAR …